Flipkart Mobile App Offer Online Shopping Discounts & Cashback!f
Get the latest Flipkart mobile app offers & Deals of the Day, Get Discounts for Home&Furniture, Personal Care Appliances, Laptops, Mobiles & Tablets, Electronic items like TV , Refrigerators & Washing Machines.

Flipkart App Offers a lot of savings and mind you my personal feedback is it is worth a space on your mobile for all the savings it bring along and you can get notifications on Flipkart Online Shopping Offers right up on your mobile. You can check out the latest on the mobile app.Download the Flipkart mobile app.
Flipkart Mobile App Offer
IF you are planning to buy a new mobile or exchange your old one do not forget to check this post Flipkart Sale Today Offer
Play Flipkart Gamezone Quiz Answer To Win Exciting Prizes
Flipkart Festive Bonanza Offer
Get 10% instant discount on purchases made on Flipkart with SBI Debit cards & Credit Cards.
The offer is valid from 26th October 2019 (00:00 hrs) to 29th October 2019 (23:59 hrs)
Valid on Mobiles, Televisions, Kitchen Appliances, Large Appliances & Furniture
* Minimum Cart Value- INR 4,999
* Maximum discount per card- INR 1,500
FLIPKART BANK CREDIT CARD/DEBIT CARD OFFERS
Flipkart time and again ties ups with leading banks whenever there are special promotions going on like Home Shopping Days, Electronics Day Sale, Big Shopping Days, Flipkart TV Days, Flipkart Cooling Days etc. When you shop using Banks Debit or Credit Cards you can get instant discounts & Cashbacks
Bank Of Baroda
ICICI Bank
Maestro Card Offer
MasterCard Offer
Rupay Card Offer
SBI Offer
Standard Chartered Bank Offer
HSBC Bank Offer
Visa Card Offer
Flipkart 150 off on 1500 Offer
Shop more to save more Get Buy for Rs 1500 and Above and get Flat Rs 150 Off. Promotion valid on below landing page only which opens on clicking below button. Hurry Limited period Offer.
FLIPSTART DAYS OFFER : 
10% Instant Discount with AXIS Buzz Credit Cards at Flipkart.
Valid from 1st August 2019 (00:00 Hours) to 5th August 2019 (23:59 Hours)
There is no minimum cart amount to avail this offer.
Maximum discount that can be availed during the Offer Period per card is Rs. 400
* Offer is also applicable on payments made through EMI on Axis Bank Buzz Credit Cards
transactions (including all Credit & Debit EMI Transactions) except for transactions made using Axis Bank Corporate or Commercial cards.
Offer is NOT applicable on transactions made through Internet Banking.
Flipkart Mobile App Offer – Super Cooling Days : 
The Flipkart Super Cooling Days Sale is here Get huge Discount on Air Conditioners ( AC's ), Refrigerators, Fans & Coolers. Lowest Prices on ACs at Flipkart.
Flipkart Cooling Days Sale is valid from 9th June 2019 00:00 to 12th June 2019 23:59
Get 10% Instant Discount with All Bank Debit Cards, Credit Cards, NetBanking & EMI on purchase on the following products (i) Refrigerator (ii) Air coolers (iii) Air Conditioners
Maximum Discount Per Card (in INR) – Rs.1500
Minimum Purchase Amount (in INR) – Rs.5000).
Bank Credit Debit Card Offers from Flipkart
Flipkart Cooling Days Sale is subject to T&C*
BEST OF SEASON SALE ( BOSS ) 2019 FLIPKART OFFER. 
Flipkart Best of Season Sale (BOSS) starts from June 11th to 15th June 2019.
Early Access for Flipkart Plus customers, Sale starts at 8 pm on 10th June, 2019.
Get Upto 80% Discount during the BOSS of all sales. Additional 10% Instant Discount with SBI Debit cards.
Shop and get assured rewards of minimum of Rs 2000 from Zomato, Cult.fit, Gaana, Ixigo, Hungama Music & Oyo.
FLIPKART MOBILE APP OFFERS ON LAPTOPS:
Apple Laptop Acer Laptop Lenovo Laptop Dell Laptop Asus Laptop HP Laptop Gaming Laptops Entertainment Laptops EveryDay Use laptop Laptop Bags Laptop Accessories
TVS: Vu TV 40 inches TV 32 inches TV Samsung TV Sony TV Panasonic TV LG TV Micromax TV Smart TV 4K TV LED TV Curved TV
FLIPKART MOBILE APP OFFERS ON CLOTHING:
Men Shirts Men Jeans Men T-Shirts Men Suits Men Trousers Mens Blazers Women Shirts Women Jeans Kurtis Dresses Sarees Salwar Suits Skirts Lehenga Choli Anarkali
FLIPKART MOBILE APP OFFERS ON WATCHES & ACCESSORIES:
Watches Fastrack Watches Titan Watches Maxima Watches Casio Watches Sonata Watches Fossil Watches Citizen Watches Sunglasses Ray Ban Sunglasses Wallets Handbags Bags Luggage & Travel Bags American Tourister Bags
Casual Shoes Nike Shoes Adidas Shoes Reebok Shoes Puma Shoes Bata Shoes Woodland Shoes Fila Shoes Crocs Shoes Footwear Sports Shoes Running Shoes
FLIPKART STUDENT BACK TO SCHOOL OFFER :
Listed here are the Top 5 Offers for Flipkart Student and Back to School and Back to College Offers on Books, Laptops, School Supplies, Sports , Gaming & Accessories
Flipcart is offering Rs 150 off on purchases made through Flipkart Mobile App. This Extra Rs 150 off is valid over and above the existing discounts at Flipkart.com. This offer has expired.
Flipkart Grocery E-Voucher Offer Get Rs 150 off on 1000
1. The Flipkart e-voucher value is Rs. 150 and is valid till July 15th, 2019
2. A minimum purchase of groceries worth Rs. 1000 is required to redeem the Flipkart e-voucher
on https://dl.flipkart.com/flipkart-grocery-store?
3. The e-voucher cannot be redeemed along with any other e-vouchers in a transaction.
4. The e-voucher is for SINGLE use only and is NOT redeemable for cash or credit.
How to Redeem the Flipkart e-voucher:
1. To redeem the voucher and map the offer to your account, please Login to your Flip kart account.
2. If you're not logged in to Flipkart, you'll first be prompted to login. If you're already logged in, the
voucher redemption page will directly open up.
3. Enter the e-voucher code. The e-voucher codes are case sensitive. Please ensure that you
enter it exactly as shared in the communication.
4. Once the e-voucher code is entered, press "Validate" to get mapped to the e-voucher offer.
5. You now need to add to cart a minimum of Rs. 1000 worth of groceries to avail the discount.
6. If the order placed using the e-voucher code is cancelled or returned, then the e-voucher code
cannot be used for the subsequent order.
7. View details of the discount under the 'My Rewards' section in the mobile app
8. Discount automatically applies across products on a min. grocery cart value of Rs. 1000
9. Go-to grocery section of Flipkart by clicking here https://dl.flipkart.com/flipkart-grocery-store?
Flipkart Mobile App Offer –
Big Billion Days Offers 2019
The Next Upcoming Big Billion Days 2019 Dates of Flipkart are revealed and is from 29-Sep-2018 to 04-Oct-2018. Sale Starts 4 hours early from 28th September for Flipkart Plus Customers.
Here is a sneek peak of all Upcoming Deals during The Big Billion Days 2019 from Flipkart.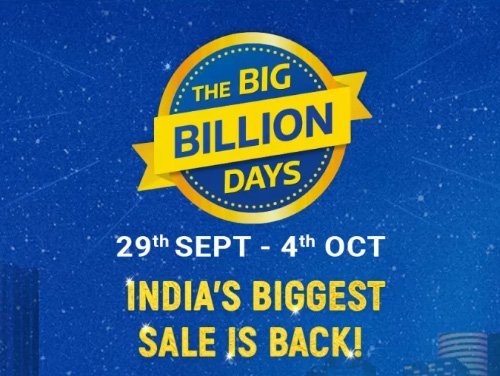 Axis Bank Offer : 10% Instant Discount with Axis Bank Debit Card & Credit Card.
ICICI Bank Offer : 10% Instant Discount with ICICI Bank Credit Cards.
| Date | Category | Offers |
| --- | --- | --- |
| 29-Sep-2018 – 04-Oct-2018 | Mobile Phones | Best Offers |
| 29-Sep-2018 – 04-Oct-2018 | Electronics | Upto 90% Off |
| 29-Sep-2018 – 04-Oct-2018 | Tv & Appliances | Upto 75% Off |
| 29-Sep-2018 – 04-Oct-2018 | Laptops | Lowest Offers |
| 29-Sep-2018 – 04-Oct-2018 | Clothing, Footwear | Upto 90% Off |
| 29-Sep-2018 – 04-Oct-2018 | Books, Toys | Upto 90% Off |
| 29-Sep-2018 – 04-Oct-2018 | Furniture | Upto 90% Off |
| 29-Sep-2018 – 04-Oct-2018 | Grocery | 1 Rs Deals |