Smart LED TV Online Shopping Discount Cashback Offers Today & in 2020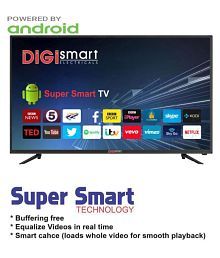 Televisions have undergone so many changes right from the good old days of Black & White TV, Coloured CRT models, LED to the current form of UltraSmart (4K) LED TV.
TV Buying Guide – Top 5 Tips
Listed below are Top 5
1. Television Screen Size :
Getting the right TV size is one of the most important aspects for the Best TV viewing experience. Care has to be taken that you don't land up buying a small TV for a large room & a Big TV for a small room.  Popular Sizes are 32 inch, 40 inch, 50 inch, 55 inch, 60 inch
2. Display & Resolution
This is the second most important thing to consider when Buying a TV. You dont want to end up buying outdated and obsolete technology like CRT, Plasma & LCD nor do you want to buy hi-tech features which you may never use.
Popular Displays are LED, OLED & QLED
Popular Resolutions are : HD Ready ( 720p), Full HD ( 1080p) & 4k ( 2160p UHD ) also know as 4K Ultra HD televisions
3. Smart LED TV
You can surf the internet on Smart TV using your Home Wifi Network, LAN or Mobile Data. The Key here is to make sure that you choose the Correct Operation System ( OS ) like the most popular is Android TV or there are brand specific OS like Samsung TV has Tizen OS & LG TV has WebOS. As far as the RAM is concerned higher the better. Phone Mirroring or Casting Feature is useful for duplicating the screen of your Smartphone or Laptop on the TV. Finally to do the navigation you need to have the correct remote or some TVs are compatible with Mobile Phone LED control.
4. Connectivity
The most important features to check of connectivity are Viz
HDMI Ports : These let you connect with Set Top Box, DVD Players, Gaming Consoles, Laptops etc.
USB Ports : Mostly used for pendrives, External Hardisks, Cameras or Internet Dongles used for hotspot.
VGA Ports : Was a popular form to connect to Laptops but HDMI Ports serve the purpose better.
RCA Ports : Used to connect the Set Top Box & Old Digital Cameras & DVD Players.
LAN Port : Connection to the LAN for the internet.
Bluetooth : Wireless to connect to Smartphones & Other Bluetooth enabled devices.
5. Brand : 
Finally you want a peace of mind with your new TV set and not just Buy Cheap TV. Selecting the right brand is of utmost importance so you get Original products with Warranty, You can also opt for Extended Warranty when doing your purchase.
Best Selling TV Brands: Sony, Vu, Mi, Samsung, LG, Micromax, Panasonic, lloyd, Thomson, MarQ, Philips, TCL .
Smart LED TV Reviews
Flipkart Reviews
You can find out all the Reviews of each and every Model of LED TV sold on flipkart by clicking on the link below.
Amazon Reviews
Reviews of Televisions Sold on Amazon Can be viewed by clickin on the below link.
What are Todays Offer or Television?
1.  NO Cost EMI & Zero Downpayment
2. Exchange Offer
3. Free Delivery.
4. Free & Scheduled Installation
5. Bank Offers
LED TV Amazon Offers Today
5% Instant discount with HSBC Cashback card

Partner Offers :

Avail EMI on Debit Cards. Get credit up to ₹1,00,000.
Get GST invoice and save up to 28% on business purchases. Sign up for free 
LED TV Flipkart Offers Today
Buy Cheap Televisions Online from Flipkart at the Best Prices
Axis Bank Flipkart : 5% Unlimited Cashback on Flipkart Axis Bank Credit Card & 10% off* with Axis Bank Buzz Credit Card
All Banks : Get 10% off on CC/DC/Net Banking/EMI options Also applicable on Cardless credit from 9th to 12th March 2020.
Bank of Baroda Flipkart Offer : 10% Instant Discount from 9th March 2020 (00:00 Hours) to 15th March 2020(23:59 Hours).
POPULAR TV's FROM LEADING BRANDS
The most popular TV is the 32 Inch Smart TV & 42 Inch Smart TV. Listed below are some of the Low Priced LED TV's and Also Premium Range of Televisions. Including a Price List of LED TVs is not practical as the prices keep fluctuating so we have included a link to the respective TV. Just Click on below button to get the latest prices and Best Offers on LED TV.
Samsung Full HD LED Smart Android TV – 24/32/43/49/55 Inch
How to Convert LED TV to Smart TV ?
Cant Afford to spend Huge Amount to Buy a Smart TV ? Not To Worry Today We are going to share with you How to Convert Any Normal LED TV to SmartTV Step By Step
Requirements :
1.  LED TV
2.  Casting/Mirroring Device ( Mirrorcast, Anycast , Chromecast )
3.  Smartphone with Cast Feature
Plug in the Mirroring Device or Anycast device into the HDMI Port and the USB cable into the USB Port of your TV.
Power on Your TV and choose input as the HDMI port using the remote.
Press the small button on the casting device to Put it On and then using your smartphone go to Cast under the Display Settings. You will be prompted for connection select the casting device shown on your TV screen and Voila you have your Phone Mirrored on the TV. Now Play Youtube , Browse the Net etc
Note : You can mirror your Laptop using the same steps as above.