Smart LED TV Online Shopping Discount Cashback Offers Today & in 2020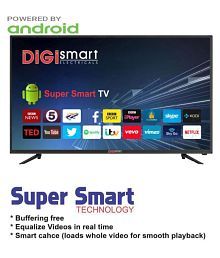 Televisions have undergone so many changes right from the good old days of Black & White TV, Coloured CRT models, LED to the current form of UltraSmart (4K) LED TV.
TV Buying Guide – Top 5 Tips
Listed below are Top 5
1. Television Screen Size :
Getting the right TV size is one of the most important aspects for the Best TV viewing experience. Care has to be taken that you don't land up buying a small TV for a large room & a Big TV for a small room.  Popular Sizes are 32 inch, 40 inch, 50 inch, 55 inch, 60 inch
2. Display & Resolution
This is the second most important thing to consider when Buying a TV. You dont want to end up buying outdated and obsolete technology like CRT, Plasma & LCD nor do you want to buy hi-tech features which you may never use.
Popular Displays are LED, OLED & QLED
Popular Resolutions are : HD Ready ( 720p), Full HD ( 1080p) & 4k ( 2160p UHD ) also know as 4K Ultra HD televisions
3. Smart LED TV
You can surf the internet on Smart TV using your Home Wifi Network, LAN or Mobile Data. The Key here is to make sure that you choose the Correct Operation System ( OS ) like the most popular is Android TV or there are brand specific OS like Samsung TV has Tizen OS & LG TV has WebOS. As far as the RAM is concerned higher the better. Phone Mirroring or Casting Feature is useful for duplicating the screen of your Smartphone or Laptop on the TV. Finally to do the navigation you need to have the correct remote or some TVs are compatible with Mobile Phone LED control.
4. Connectivity
The most important features to check of connectivity are Viz
HDMI Ports : These let you connect with Set Top Box, DVD Players, Gaming Consoles, Laptops etc.
USB Ports : Mostly used for pendrives, External Hardisks, Cameras or Internet Dongles used for hotspot.
VGA Ports : Was a popular form to connect to Laptops but HDMI Ports serve the purpose better.
RCA Ports : Used to connect the Set Top Box & Old Digital Cameras & DVD Players.
LAN Port : Connection to the LAN for the internet.
Bluetooth : Wireless to connect to Smartphones & Other Bluetooth enabled devices.
5. Brand : 
Finally you want a peace of mind with your new TV set and not just Buy Cheap TV. Selecting the right brand is of utmost importance so you get Original products with Warranty, You can also opt for Extended Warranty when doing your purchase.
Best Selling TV Brands: Sony, Vu, Mi, Samsung, LG, Micromax, Panasonic, lloyd, Thomson, MarQ, Philips, TCL .